So, how's your brand's tone of voice? If you're mouthing WTF at the screen, read on (or watch the vid)
Your voice is the essence of how you express yourself, your values and your mission as a business in your written and spoken communications. The tone of your brand voice helps your customers pre-empt what to expect from your service and guides your team to deliver that consistently.
Tone of Voice describes the way your brand speaks to its audience. What your business sounds like, and what people can expect from you along the customer journey.
Why does tone of voice matter to my branding?
Simply put, It helps you stand out from the crowd. It adds a layer of personality to your brand - it can appeal to your target client's emotions and their own goals. It helps build connection and can make a user feel that the company cares about them. That's huge. It can bring your brand to life, inject anything from humour to comfort to authority, with your voice. Amazing.
Stats from 2020 show that in every minute of the day there are:
6million people shopping online
575 thousand new tweets
65 thousand new instagram posts
5.7million google searches
And 12million iMessages sent.
Mind-blowing!
So, amongst all this chaotic chatter, how can you be heard above the noise?
Stats show it takes 50 milliseconds (that's .05 seconds) for users to form their opinion of your website. This is where brand tone of voice comes into play - if you don't get the tone right, you can lose out on that call, click or visit.
In a world of stiff, boring, businesses speak, you can be a friendly and inspiring voice of human connection and understanding. Create emotion and hit them right in the feels.
Need help finding your voice? Then just give me a shout (see what I did there?)
One of the biggest holdups I face in web design is waiting for the copy. And, it's one of the most important parts.
People make the mistake of thinking they have to sound business like and official. But content doesn't have to be boring - in fact, the more conversational it is, the easier it will be to keep the reader engaged (and stop them falling asleep at the 'mouse').
You've got a split second to knock people's socks off - so use it wisely or they'll just click off. We recommend an engaging headline then a small burst of text - we're not talking War & Peace here - summarise what you want to say and if you need to go into more detail, include a 'read more' link to allow the reader to go 'all in' on a more descriptive page - a specialist landing page is also good for SEO (WTF is SEO? Check out our other video linked below).
Grammar an speelling mistooks are alos rally damaging… right, so that's a bit overboard, but the main gist is - would you trust a site that is filled with errors? No me neither so make sure your copy reads well, is run through a spell checker and that you've read it back out loud - does it makes sense?
The key to turning browsers into buyers, is to gain their trust, make a connection with the person behind the keyboard - personable copy builds unconscious trust. Make them feel like they should buy from you. How can you do this? Just be yourself.
So it's not just about your brand visuals - a great website needs to sound as good as it looks - and that's all in the copy and tone of voice.
So, For those about to web… choose Nettl
If I've had the pleasure of Zooming with you or meeting in person, you may have noticed I'm a massive music fan/nerd!
The wall of fame that sits behind me shows off my taste in music (good or bad, you can judge!). It's been a great conversation starter and ice breaker for Zoom calls and meeting new people. I feel it's really important in business to let your passions shine though - it's a great way to make a connection, spark conversations and is something I recommend you build into your brand voice or about us page. Whatever that passion may be, it can really help humanise a business.
For me, music plays a huge part in my life, my personality, and, something I'm obsessively passionate about - I try to inject it into my day wherever possible. It's one of the reasons why I got into design in the first place - a love of album covers, studying every inch of the sleeve, reading the liner notes, the smell of vinyl *Homer Simpson drool noise*. So many great and iconic designs.
Before Spotify, you either spent your hard earned cash (or pocket money) on an album based on the reputation of the band, recommendations from friends, or even by the cover art alone! We all judge books by their covers (trust me, I've bought a few dodgy albums in my time!) That's the power design has - it can turn you on or off in a split second.
Choosing a designer for your next design project is equally important - look at their body of work, are they serving up design hits - are their websites smashing it and going platinum? Can they help you get up the google 'charts' to that coveted number one spot? Okay I'll stop it with the music analogies!
Anyway, so far this week I've mostly been playing Tom Petty's Wildflowers - a tremendous album if you haven't heard it.
I'll leave you with some wise words from Mr Petty...

'Most of the things I worry about, never happen anyway' (Crawling Back to You).
Love that line. 🙂
It was with the heaviest of hearts that we had to unexpectedly and suddenly say goodbye to our beloved Satchmo on 13th December 2021 - he was always eating things he shouldn't have and unfortunately this time it was one item too many. He was an amazing light in our lives for the short time he was with us. A real personality that gave us so much love. My sidekick here at Nettl - with me from day one, my shadow who will leave such a huge hole here. He will shine on. We'll all miss you pal. 🖤
But first, a brief history.
"Never mind the history. I'm not intrigued to learn about the psychology behind advent calendars.
Just take me to the customer-retention tips!"
Still here? Great choice, we appreciate ya. Let's dive in.
What does Advent mean anyway?
Despite decades of eating little chocolates from behind cardboard doors, we've probably never asked ourselves this question before. So it seems like a good place for us to begin.
The word "advent" is derived from the Latin word adventus, meaning "coming". It's a season of the liturgical year observed in most Christian denominations and it has loads of different traditions associated with it from wreaths to Christingles.
Originally 'Advent' had nothing to do with Christmas at all.
Advent has probably been observed since the fourth century. Originally, it was a time when converts to Christianity readied themselves for baptism. Then during the Middle Ages, Advent became associated with preparation for the Second Coming of Christ. It wasn't until relatively recently when Advent became associated with the nativity.
The concept of an advent countdown is even newer. Word has it that the tradition came when some Protestant Germans started drawing chalk lines on doors to count down the days til Christmas in the 19th Century. Then, somewhere along the line, clever marketers felt that 24 days of chocolate (or 25 if you're lucky!) was the winning combination and here we are.
The first actual advent calendar – the kind we know and love today – wasn't produced until the early 1900s and the first mass-produced calendar was created in 1908 by the German printers, Reichhold & Lang.
So, there you go, that's a little nugget you can use to make you sound sophisticated at the dinner table this Christmas. But if you're thinking 'thanks for the history lesson but what's this got to do with my business?' then keep reading…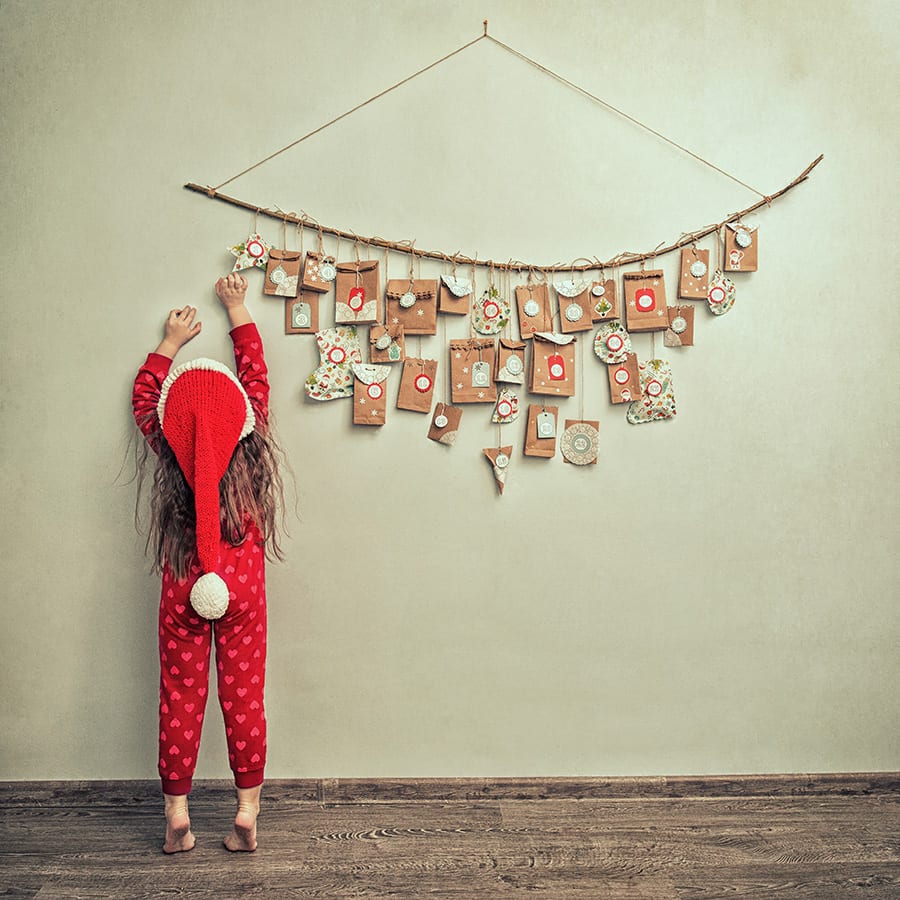 There are 5 things at work here making advent calendars enjoyable.
Well, maybe 6 if you enjoy searching for the number but can't say we ever liked that bit.
#1 Expectation
Not everyone likes surprises and often it depends on the type of surprise. In our hunter gatherer days, surprises often meant danger – like a lion coming up behind you. SURPRISE! So it's no wonder that people can often be a little tentative around the unexpected.
That's why, more often than not, people tend to shop or eat somewhere familiar because they've been before and they know exactly what they can expect.
#2 Intrigue
That being said, we are also naturally curious creatures that love to explore. From 6 months old we're keen to see what's behind or underneath things. Our adult brains are equally entertained by a little intrigue and there's nothing quite like a little mystery to focus our attention on!
#3 Excitement
Counting down the days builds excitement. Anticipation is huge. How can we contain all this excitement? How can we possibly focus on anything else?
As strange as it sounds, Advent calendars can also help us feel in control. It's organised fun and it keeps our excitement in check because we know where we are and where the journey is going.
#4 Completion
Opening each of doors as you go along completes a stage. It's like a little milestone or a task being checked off. Especially when even get a small treat or earn a new badge. It feels like progress and our brains feed us feel-good chemicals when we make progress.
#5 Reward
This is probably the most obvious one. Small mammals have been shown to continuously push a button if it dispenses food. And humans aren't that different: only a few hundred years ago, food was scarce for the majority of the world's population and our brains haven't caught up yet.
Maybe it's food. Maybe it's gin. Maybe it's lipstick. No matter what it is rewards do something special to that animal part of your brain.
The moral of the story
From a business perspective, the lesson we can all learn from advent calendars is this:
Encourage your customers to return to you.
Ways you can achieve this
By delivering on expectation – managing expectations is the key to customer satisfaction.
By surprising and delighting – it goes without saying, good surprises only!
By helping them feel excited about the process – or at least allow them to feel in control of the process.
By creating and completing regular milestones, and helping your clients to feel involved.
Finally by rewarding them – either with the value you offer or, better still, with a little extra treat. Just like that 25th window.
How would this look in action?
Be honest and transparent
If you know a service might take two weeks to deliver, don't pretend it could be done any quicker, that will lead to frustration. It's best to be realistic and open with your customers so they feel satisfied with your service or product. This will mean that you'll deliver on customer expectations and avoid any disappointments.
By doing so you'll ensure customers have faith in your products and services and that'll make sure they keep coming back.
Offer regular updates
Regular milestones could look like updating your client as you progress through your service to them. Perhaps you're constructing a website, one way you could keep the client feeling involved is through regular email updates on the project's progress.
This can help with making the client feel excited about the process. Additionally, it can help them feel in control of the process by allowing them to input their feedback throughout.
Reward your clients with special offers
This could look very different depending on what your business offers and your marketing budget.
Maybe you could offer a discount, an extended free trial or free first-time consultation? Or maybe you could give them a free product when they spend over a certain amount? Doing something like this will help to surprise and delight your client by providing them with something extra to get them smiling!
Boost community engagement
One nice and easy way of making your customers feel involved in your brand and the process is to interact with them across your social media channels.
If they comment on one of your posts, make sure you respond or give it a like. If they post something tagging your brand, support it with a message or a re-post. Make it so they feel like they're forming a rapport with you and your brand. This will help cultivate customer loyalty and make sure your clients are returning again and again.
Produce some original content
One of the most effective ways to get the word out on your business and make customers feel involved in your brand is to create original and engaging content that they can share and learn something from.
Teach people something useful. Walk them through a product or service with a step-by-step tutorial. This doesn't have to be written content either! Try your hand at producing some video content too and see what happens to your sales.
Tell them you're thinking of them
After a customer has made a purchase or used a service, make them feel special by dropping them a message of thanks. Or take it a step further, if you can, and give them a personalised call telling them you appreciate their support and loyalty. By doing so, you'll help to establish a good customer experience in their mind and encourage them to keep returning.
Act on feedback
When customers offer you feedback (whether that's positive or negative!), let them know that you've received it, you've heard what they are saying and tell them that you're going to do something with it.
Maybe that something is a change to a product or service, based on their feedback. Maybe it's a thank you note like we've discussed above. Anything to make them feel in control of their customer journey and like you'll always deliver on their expectations.
Reward long-term clients
If you have a few clients who are very loyal to you and do a lot of business with you, why not create an exclusive VIP list just for them? You could host a special sale or give them early access to new products.
You still want to make sure you treat all of your customers like royalty, but having something special for long-term clients can help increase your retention rate.
Be consistent
Be sure to give your customers a great customer experience from start to finish. Customers will feel valued and appreciated when they know they can count on you. This consistency is key to ensure that these customers don't just make one purchase but stick around and prioritise your business above your competitors.
So there you go!
Go get started on your next marketing strategy with the spirit of an advent calendar in mind and see what can be achieved with some tried and tested festive psychology.
Basically, a website without SEO is like an electric guitar without an amplifier – no matter how good you can jam, your sweet, sweet music will struggle to be heard.
TL/DR - watch instead...
Search engine optimisation, a.k.a. SEO, is the key to delivering an audience to your website. As AC/DC said, it's a long way to the top (of Google) if you want to rock and roll. 

So, how do we do it? Unlike Pay Per Click (PPC), organic SEO can't be bought – you have to earn it.
Our SEO team are the roadies that will do the work to earn the trust, improve your search results and help turn your site into a superstar.
Are you ready to plug in and rock? Excellent. With our monthly SEO packages, we'll amplify your traffic and electrify your website's performance.
Why we're different
We're not hidden away in a bedroom working in our underpants or some anonymous online only service from some far off land. Actually, we're on Baker Street, in your community and most importantly local to you. We're your local SEO experts.
That means you can actually come in and see us for a chat. You can give us a call or drop us an email and we'll promptly respond. Let's get together and see about increasing your online presence.
So, for those about to SEO, we salute you.
This is the million dollar question (fortunately, a million quid is not the answer!) The honest answer is "it depends". It's kind of like the question, how much is a car.
There are a number of factors that decide whether we're aiming for a Reliant Robin, or if we're heading to the Rolls Royce showroom. It's true that both cars will get you from a to b (most of the time!), but only one will do it with style, turning heads and capturing a jaw dropping gaze.
So what's the deal?
We'll keep the car analogy purring along. If you think about the all-sining, all-dancing sites as top of the range sports cars. They're superfast, always start (load) first time, have all the mod cons, classy features most importantly, wow all those who see them.
Your run-of-the-mill (daily driver) websites might provide a bog standard design and minimum frills, with their bland interiors - you'll need more than a furry dice and a 'Steve & Sharon' window sticker to engage the traffic. Lastly, you've got the second hand/used market - with the DIY builders and templates such as Wix & Weebly - unreliable, been around the block and a non starter with (search) engines.

So what do these factors mean for the price of a website? Let's take a look under the bonnet!
BASIC DIY BROCHURE WEBSITES
£0-500
These sites are typically built using standard templates by web-building drag and drop platforms - this means you might share your 'design' with 100 other different businesses. Platforms like Wix, Weebly & Squarespace are popular for DIY site creation.
Whilst it's possible to create your own eye-catching website using these website builders - it's not for everyone as it requires a bit of skill, knowhow and a little sprinkling of creativity.
If you're on a very tight budget (under £500) then consider using a DIY site builder.
CUSTOM BUILT BROCHURE WEBSITES
£750-£5000
Small business brochure websites are great to get your online presence started. These sites typically cost between £750 and £5,000 to build; although designers' costs vary. They tend to be your online version of a brochure (hence the name) - they will display your services, a bit about the business, meet the team, contact information and any specialities of the business. They'd usually have integration with social media sites, Google Maps and Google Analytics.
Can it be done by a DIYer? Sure, but would you mess with the electrics in your house? Not if you want to avoid shocks - the same is true with web design (no shock).
ECOMMERCE WEBSITES OR CONNECT STYLE WEBSITES
£2,000 - £15,000+
E-commerce websites and custom bespoke connect style websites are perfect for those who want their website to bring in revenue. E-commerce sites need to be slick, fast loading, easy to navigate refined user experience design. The complex cart and order management system is crucial - the easier it is to check out the more sales you'll receive. Connect sites (booking systems, click and collect options etc) provide a higher level of functionality to your standard brochure site. The cost for webshops start at the £2000 mark. Ready to talk shop? Skip to the bottom.
ALL-SINGING-ALL-DANCING WEBSITES
£10,000 - £50,000+
Bespoke websites that are custom created, fine tuned to the requirements of the individual company. They're not your run of the mill site as they often require advanced functionality, custom built integration with third party systems.
These websites would be in the region of £10,000 to £50,000+ to build.
Where do you sit?
So, what's the factors that can affect how a site it priced?
Size of the site (number of pages)
Functionality (do you need it to connect to something or do anything fancy?)
Creative time we need to spend building it
Amount and quality of content you can provide or whether you need us to create copy for you
Ignoring the DIY builders, websites can start from a few hundred pounds and grow in budget as they grow in needs, according to the above list. The best thing to do, is consider your budget and goals - what do you want your website to accomplish. Make a list and a plan and get in touch to start the ball rolling.
Many 'web designers' will use pre-made themes and templates, hacking or adapting them to try and your needs - you'll see similar sites in their portfolio. We're not like that. We build your site from scratch without any constraints (no standard assembly lines here) - whatever you can dream, we can create. No DIY nightmares with us.
So for those about to Web, we salute you. Choose Nettl
Does your business need a website? Does Elvis like sparkly jumpsuits? Well thankyouverymuch, yes he does, and yes you do.
Whether you have just launched or you have been around since the days of Mr Presley, a website will provide so many opportunities to you and your business. Building a website will open your business up to new markets and demographics - no longer are you restricted to doing business in your own backyard. You can also position yourself as an authentic expert in your field - providing knowledge and advice, and act as a lead generator or sales funnel.
So now you know that you need a website, we'll guide you through the key benefits, how it can improve your business and show you how to get your new website up and running; what type of site you might need, how much it might cost (the million dollar question) and who can help you turn your digital dreams into reality (spoiler alert: nettl).
Importance of a Website to a New Business
Your website takes you global. Having an online presence massively extends your market reach. Even if you're not looking for world domination, having a website means many more people than those who walk by your store or hear about you from their friend can find you. A great website empowers potential customers to connect with you, understand the way you work and learn more about your services from wherever they are, at whatever time they choose. Your website doesn't have trading hours, it's always open to share your message with visitors.
Now that we've established how your website can help more people know that you exist, how can it be used to get them to like and trust you more? A website, when well created, is a wonderful place to showcase your brand values, personality and way of working. Use video content, testimonials, imagery, layouts and so much more to help potential customers establish an understanding of what it means to work with you, before they have even committed to stepping foot inside your store or office.
A great website will showcase your greatness, for all the world to see. An online portfolio of your business, recent projects & testimonials, company background and frequently asked questions section - each builds credibility and trust as potential clients learn more about you, see your expertise and see that you're here to stay. Most people do their homework - they'll stalk the hell out of your website before getting in touch. A shoddy site, and they won't even pick up the phone (I know I've gone somewhere else if the site misses the mark! Most customers will research your business online before purchasing from you, gain their trust with a credible website that builds authenticity.
Types of Websites
Don't know where to start with getting all aboard the old interweb train? We'll explain the types of websites you might want for your business.
Portfolio Website
Establish your online presence with a simple portfolio website. This type of website has simple functionality, it might include a gallery, blog and a simple contact form. You can use it if you are looking to showcase case studies, testimonials and information about your business online. A beautiful portfolio website will open your business up to wider audiences. This will also improve customer experience as clients can find lots of information about you online, without having to call or visit you. It can even be a great lead generation tool, as potential clients see your work in case studies and imagery while still in their research phase.
E-commerce Websites for New Businesses
Another common type of website for businesses is an e-commerce site. With an e-commerce website, visitors can purchase products or services through your site, process payments and even receive confirmation and receipts.
E-commerce websites offer a wide range of reporting that tells you all about the transactions that have taken place. Integrate Google Analytics to your e-commerce website and you can track everything from which audiences are purchasing the most from your site, to which pages on your website are leading them to purchase. You might want to sell a product, like custom built guitars (droool), or a service, like an hour long consultation.
Monthly subscriptions and membership websites can also be a great way to get people hooked on your knowledge and get you receiving recurring payments. Knowledge is power!
E-commerce websites open your business up to far wider-reaching opportunities as you can transact with people regardless of time or location - 24/7 selling, baby!
Connect Website
The third type of website new businesses typically look for is a connect site. This type of website usually requires some additional functionality beyond a portfolio or e-commerce website. Some examples might include a restaurant owner who wants to integrate a reservation system, like Open Table, into her site so customers can book a table straight from the website into her system - no need for a cumbersome booking diary, scribbles aplenty. Connect websites offer an increased level of functionality. We can custom build a booking system so your customers can select a date and time for their eyebrow wax or choose which person they'd like to crack their back back into place. Ouch!
They can really impact the way a business runs. Time savers = money savers.
What do Businesses Use Websites for?
When researching the type of website you will need, begin by identifying your goals for the site.
Some of our clients are sole-traders, they don't always have the capacity to answer questions or take enquiries over the phone. They promote their simple brochure-style portfolio website to potential clients. This way, the client can do more for themselves, and the owner knows that he isn't missing potential clients while he's working on a project.
Someone else might want to use their website to access a wider market, and need to sell online to facilitate this.
You might want to streamline the way your business operates. Rather than taking booking requests over the phone, via email and from walk-ins, a hairdresser might integrate their booking system to their website and have all bookings come in to the one place, rather than having to manually manage 3 different sources of bookings.
Who Can Help Me Build a Website?
There's a bloke down the pub... There's also your son's friend, probably. Although, trust us when we say we've heard more of those horror stories than we ever care to remember…
Nowadays, there are a millions ways to get online depending on your proficiency, network and goals as a business owner. DIY builders are plentiful and use snazzy templates - you can knock something up that looks the 'bee's knees'. But, without the foundations and expertise of a web designer, the website may 'bee' lacking and your customers will 'buzz' off - if they can even find your sweet nectar in the first place. Bzzz.
So, that's where we come into your life. We're the ones you've been waiting for. We create websites for local businesses day in day out. We work directly with you to get rooted in your business. That way, we are the people who build your brand with you, create your marketing campaigns, design your website and so much more. We cherish our relationships with our clients, and want their business to succeed, so nothing gives us greater pleasure than seeing a new business go live with their website.
So for those about to web, we salute you. Choose Nettl